CleverAds, a member company of Clever Group, has officially become a Preferred Partner of Facebook. With this great advantage, it will be much easier for CleverAds to support businesses.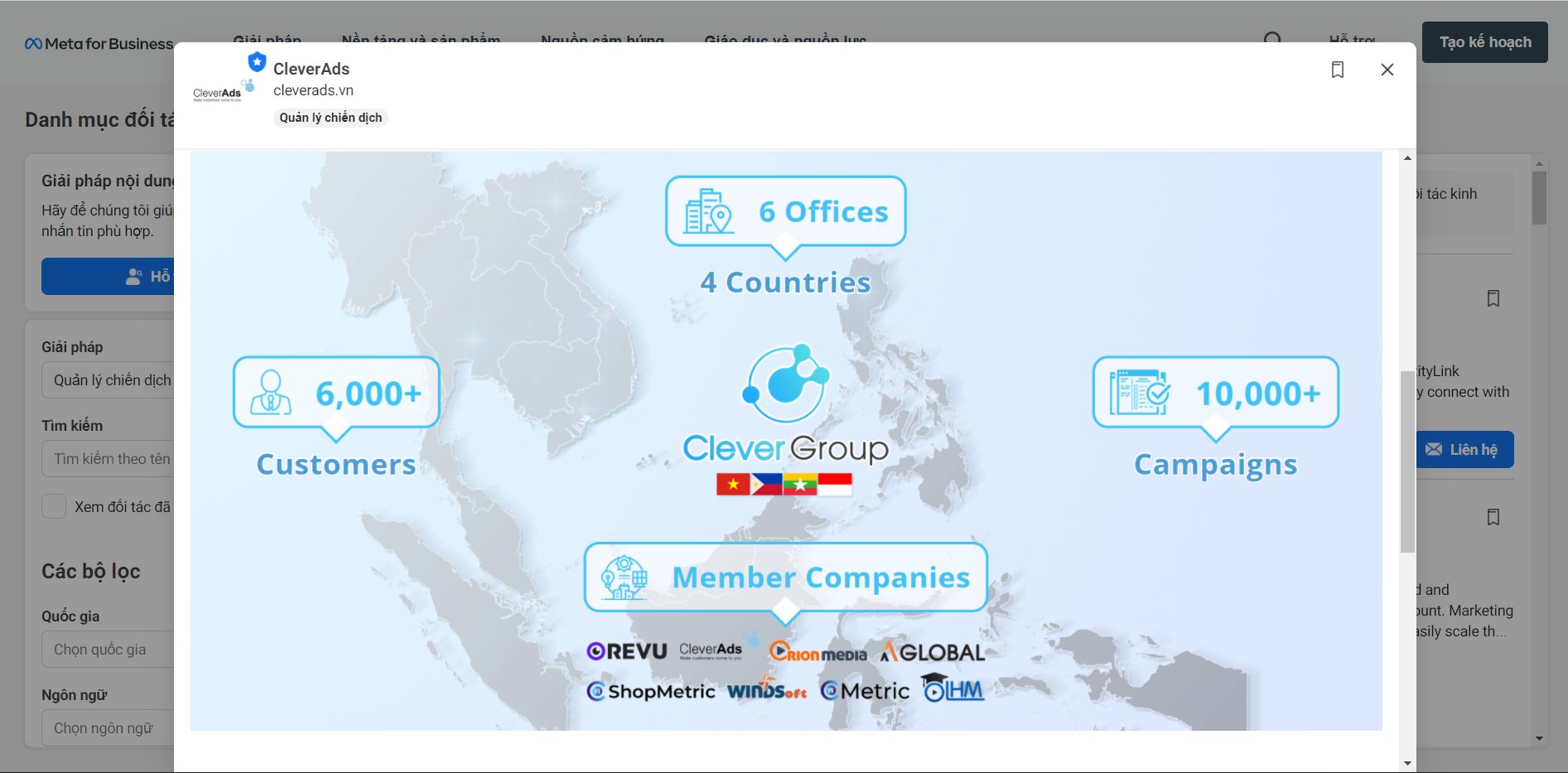 CleverAds - The leading Digital Marketing Agency
CleverAds, the previous name of Clever Group, is currently one of the leading Digital Marketing Agencies in Vietnam. In addition, CleverAds also offers an online marketing package with a variety of advertising forms including video advertising, mobile advertising, TVC & Wifi advertising, Google Display Network, Email Marketing, Forum Seeding,...
With nearly 15 years of experience, a workforce of more than 200 professional staff, CleverAds has been asserting its position with over 6,000 campaigns for thousands of domestic and foreign partners in many different industries. During its operation, CleverAds always devoted its effort to fully self-developing and supporting businesses, especially those in the field of Digital Marketing.
Accordingly, CleverAds is extremely proud to announce that we have become a Preferred Partner of Facebook. This announcement not only makes CleverAds more convenient to support businesses but also opens up many opportunities for Vietnamese businesses to access the world's dominant advertising technology platforms.
Benefits of working with CleverAds - Facebook Preferred Partner
Facebook is becoming more and more strict in the rules of running ads; therefore, sometimes businesses have urgent problems to be solved, especially when businesses' advertising accounts are deactivated. When becoming a Facebook Preferred Partner, CleverAds' customers will be given priority to solve urgent problems faster and more effectively than businesses running ads themselves or using services of other agencies. Businesses will get a thoroughly exhaustive consultation because when becoming a Facebook Partner, CleverAds can book some consultations to:
Review on creative that CleverAds is developing or creative that customers have sent to CleverAds.
Get advice or suggestions on the most useful methods for mobile apps.
Consultations on how to develop advertising campaigns in many different places.
CleverAds will be trained directly by Facebook experts to develop marketing skills on Facebook and Instagram. Thereby, CleverAds will have more skills and knowledge to support businesses in the process of implementing Digital Marketing campaigns.
When you cooperate with a Facebook Preferred Partner like CleverAds, you will have more confidence in CleverAds' professionalism and potential for success because CleverAds will be supported and prioritized by Facebook over other agencies.
Aim to support more businesses in the long run
With nearly 15 years of experience, CleverAds' goal has always been to support more and more businesses in their Digital Marketing campaigns.
There are so many potentially upcoming CleverAds projects to provide businesses with the best experience. Especially, when becoming a Preferred Partner of Facebook, CleverAds will have more resources to develop Digital Marketing projects to help businesses reach more and more potential customers all over the world.
If your business needs to run advertising campaigns on the Digital platform, contact CleverAds immediately to get the most professional, optimal, and effective plans from us!